Deutsche Muslim-Liga Bonn e.V

EMail
---

Startseite/Home der DMLBonn e.V.

Informationen der DMLBonn e.V.

English Version
Schech Bashir Ahmad
Vorsitzender der DMLBonn e.V.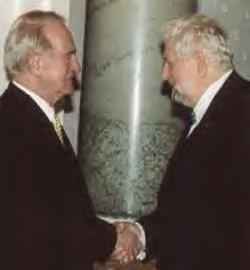 Der Vorsitzende der Deutschen Muslim- Liga Bonn beim Neujahrsempfang 2002 des Bundespraesidenten
Biographie

Geboren 1935 in Koenigsberg in Preussen, als Aeltester von 6 Geschwistern.
Vater Alfred (Ahmad nach Beitritt zum Islam im Islamischen Zentrum Hamburg), kaufmaennischer Angestellter/Offizier.
Mutter Elsa, kaufmaennische Angestellte/Hausfrau.
Evakuierung, Flucht (Ukraine, Polen, Mitteldeutschland, Tschechien und Bayerischer Wald).
Ab 1947 in Hamburg.
Schule, Speditionskaufmanns-Lehre, Handelsschule, Abend-Universitaet.
Muslim seit 1950, Mitglied der Islamischen Gemeinde Hamburg.
1951/1952 Mitbegruender der Deutschen Muslim-Liga e.V., Hamburg.

Danach 30 Jahre Nordafrika.
Jahrelanges Beduinen-Leben,
1957 Heirat mit einer arabischen Beduinin und offizielle Aufnahme in deren koenigstreuen Stamm und Sufiorden.
8 Kinder, davon 3 angenommene Waisenkinder.
1955-1958 Islam-Studium an der ersten Universitaet jenes Landes.
1958 Ehrendoktorat (Ph.D.h.c.) der International Academy Canada fuer "Bemuehungen um die Verstaendigung zwischen Menschen verschiedener Religionen und Rassen".
Sowohl privat als auch im Rahmen eines Sufi-Ordens Gastgeber vieler muslimischer Repraesentanten, nicht nur aus Deutschland.
2 Jahre in der Finanzbeoerde einer westlichen Militaer-Verwaltung einer Provinz jenes Landes, danach in der Finanzverwaltung der Amerikanischen Botschaft.
1979 Gefangennahme (Stammes- und landespolitische und religoese Gruende (Sufi-Opposition)),
1981 5faches Todesurteil als "Agent des Internationalismus (Volksfeind und Gegner der Revolution)".
Anfaengliche zusaetzliche Anklagepunkte, wie zum Beispiel "Bandenbildung und Schmuggel", mussten bereits waehrend der Untersuchung - ganz offensichtlich als unhaltbar - fallen gelassen werden.
Verlust der "arabischen" Staatsangeoerigkeit des Landes.
Mai 1983 Rueckkehr nach Deutschland im Rahmen eines sogenannten Terroristenaustauschs.
Die Familie lebt dort weiterhin in "Arabien".
Alle Kinder sind verheiratet und haben selbst Kinder.
Von Oktober 1983 bis Juni 1994 Angestellter der Finanzverwaltung der Amerikanischen Botschaft in Bonn.
Seit Ende 1983 auch mit der Deutschen Chadigah islamisch verbunden.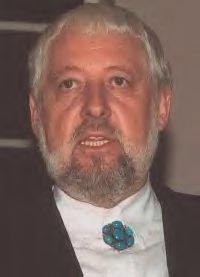 Ämter und Funktionen
Vorsitzender der DEUTSCHEN MUSLIM-LIGA BONN e.V. DMLBonn;
Mitbegründer der Deutschen Muslim-Liga e.V. Hamburg DML-HH, einige Jahre deren Vorsitzender;
Schech der SUFI-TARIQAH AS-SAFINAH;
Vorsitzender der CHRISTLICH-ISLAMISCHEN GESELLSCHAFT e.V. CIG, Köln,
Gründungsmitglied und Delegierter im Zentralrat der Muslime in Deutschland (ZMD), Köln;
DMLBonn ist muslimische Trägerin in der jährlichen Bendorfer Tagung der Ständigen Europäischen Konferenz von Juden, Christen und Muslimen (JCM): Schech Bashir war bis 1999 muslimischer Teamleiter. Derzeit ist Chadigah M. Kissel zusammen mit dem Vorstandsmitglied Karimah Stauch muslimische Teamleiterin;
Mitbegruender und muslimischer Teamleiter der JÜDISCH CHRISTLICH MUSLIMISCHEN (JCM) Ammerdown Tagungen (Großbritannien);
Vorstands- oder einfaches Mitglied in einer Reihe weiterer Organisationen und Vereinigungen wie zum Beispiel Weltkonferenz der Religionen für den Frieden (WCRP);
in einer Anzahl von deutsch-arabischen Freundschafts-Vereinigungen;
Mitglied im "Global Council" von URI (UNITED RELIGIONS INITIATIVE), als einer der drei gewählten Representanten für Europa;
Mitglied im Europäischen Exekutivausschu&szlig (EEC) von URI (UNITED RELIGIONS INITIATIVE), Brussels;
Gruendungsmitglied und Vorsitzender von URI GERMANY (gegruendet 2005)
Mitglied beim Weltparlament der Religionen, Chicago;
Honorary Fellow am Leo-Baeck-College, London;
Eines von fuenf Ausschussmitgliedern im Deutschen Islamwissenschaftlichen Ausschuß der Neumonde (DIWAN) des Zentralrats der Muslime in Deutschland (ZMD) und des Islamrats fuer die Bundesrepublik Deutschland (Islamrat) zur Bestimmung von Ramadan-Beginn und -Ende in Deutschland;
Mitglied im Kulturellen Ausschuß des ZMD für den ISLAMPAVILLON bei der EXPO2000 in Hannover.
Stand: 01.01.2007

Druckversion der Funktionen von Schech BASHIR Ahmad Dultz (in Deutsch)
Sheikh Bashir Ahmad
President of the DMLBonn e. V.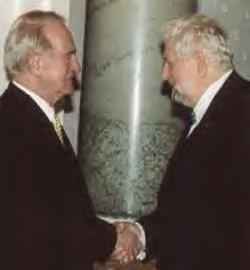 The President of the German Muslim-League Bonn e. V. at the New Year's reception 2002 with the President of the Federal Republic of Germany
Biography

Born in 1935 in Koenigsberg/Eastern Prussia, as the eldest of 6 siblings.
Father Alfred (Ahmad after his entry into Islam in the Islamic Centre Hamburg), office worker / officer.
Mother Elsa, office worker / housewife.
Evacuation, flight (Ukraine, Poland, Middle Germany, Czechoslovakia and Bavaria).
From 1947 in Hamburg.
School, apprenticeship as shipping agent: commercial school, evening university.
Muslim since 1950, member of the Islamic Community Hamburg.
1951/1952 co-founder of the GERMAN MUSLIM-LEAGUE e. V. Hamburg.

After that more than 30 years of permanent life in "Arabia".
Many years of Bedouin life,
1957 marriage with an Arab Bedouin woman and official admission into her tribe, which was loyal to the king and related to a Sufi order.
8 children, 3 of them orphans.
1955-1958 Islamic-Studies at the first University of the country where he was residing.
1958 Honorary Doctorate (Ph.D.h.c.) of the International Academy Canada for "Efforts to promote understanding between people of different religions and races".
Both privately and in the context of a Sufi Order, host to many Muslim representatives from all over the world.
2 years in a financial capacity within the Western military administration of a province of the country, afterwards employed in the financial administration of the American Embassy.
1979 imprisonment (for tribal, political and religious reasons (Sufism etc.)),
1981 five-fold death sentence as an "agent of the internationalism (enemy of the people and opponent of the revolution")).
Initial additional charges, such as "gang formation and smuggling" already had to be dropped during the investigations as quite obviously untenable.
Loss of the "Arab" nationality of the country.
May 1983 return to Germany in a so-called terrorist exchange.
The family continues to live in "Arabia".
All children are married and have children of there own.
From October 1983 to June 1994 employee of the financial administration of the American Embassy in Bonn.
Since the end of 1983 also married islamically with a German lady, Chadigah.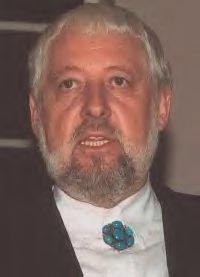 Offices and functions
President of the GERMAN MUSLIM-LEAGUE BONN e. V. ("Deutsche Muslim-Liga Bonn e. V." - DMLBonn)
Co-founder of the GERMAN MUSLIM-LEAGUE e. V., Hamburg ("Deutsche Muslim-Liga e. V." Hamburg DML-HH), for several years its President
Sheikh of the SUFI TARIQAH AS-SAFINAH ;
Until 2006 president of the CHRISTIAN-ISLAMIC SOCIETY e. V. (CIG), Koeln for more than a decade. Since then member of the Advisory-Board years
Founding member of the CENTRAL COUNCIL OF MUSLIMS IN GERMANY ("Zentralrat der Muslime in Deutschland" ZMD) and delegate;
DMLBonn is the Muslim Sponsoring Organisation of the "STANDING CONFERENCE OF JEWS, CHRISTIANS AND MUSLIMS IN EUROPE" (JCM)): Sheikh Bashir was team leader until 1999. Now Chadigah M. Kissel is Muslim team leader together with the board member Karimah Stauch;
Muslim co-founder of the "JEWISH CHRISTIAN MUSLIM SUMMER SCHOOL", Ammerdown, United Kingdom (bi-annual one-week-conference since 1994);
Board member or regular member in several other organizations e. g. member of WCRP/RfP (World Conference of Religions for Peace);
in a number of German-Arab friendship organizations;
Member of the "Global Council" of the UNITED RELIGIONS INITIATIVE (URI) (i.e. one of three elected representatives of Europe);
Member of the "European Executive Committee (EEC)" of the UNITED RELIGIONS INITIATIVE, Brussels;
Founding member and president of URI GERMANY (founded 2005);
Member of the Parliament of the World Religions, Chicago;
Honorary Fellow at the Leo-Baeck-College, London;
One of five members of the DIWAN COMMITTEE (Committee of the Central Council of Muslims in Germany ("Zentralrat der Muslime in Deutschland") and the Islamic Council in Germany ("Islamrat für die Bundesrepublik Deutschland"), who are responsible for determining the beginning and end of the month of fasting (Ramadan) in Germany);
Member of the cultural committee of the ZMD for the Islam Pavilion at the EXPO2000 in Hannover.
Stand: 01.01.2007

Printing version of the function from Sheikh BASHIR Ahmad Dultz (in English)
Deutsche Muslim-Liga Bonn e.V. - 1428 / 2007